---
Chief Executive
Zosima A. Peña
Type of Business
Manufacturing/Exporter
Legal Status
Single Proprietorship
Year Established
1999
Yr Started Exporting
-
Company Size
Small Business
Employees: 32
Office: 5 Factory: 7
Subcontractors: 20
Capitalization:
P150,000-P1,500,000
Legal Registration/ Accreditation
1) Tacloban City Business License
2) Department of Trade and Industry - Leyte Business Name Registration
3) Bureau of Internal Revenue Registration
Bank References
1) Rizal Commercial Banking Corporation, Tacloban City
2) Development Bank of the Philippines, Tacloban Branch
Major Prod. Lines

Product

Prod. Capacity

Unit Price
[1] Ladies handbags
[2] Star&round- shaped bags
[3] Scalloped tikog placemats
[4] Tikog mat (geo- metric & floral designs)
[5] Natural color handwoven sheet
1,000 bags/mo
350 bags/mo

3,360 pcs/mo

200 sheets/mo


240 sheets/mo
P230.00/pc
P240.00/pc

P420.00/doz

P1,500.00/pc


P555.00/pc
Raw Materials Used
Tikog grass (Fimbristyllis globulosa), buri embroidery strips, basic dyes, cloth or fabric. High grade tikog handwoven mats w/ colorful embroidery, NECO basic dye
Existing Market
Domestic and international market.

[1] Tikog ladies handbags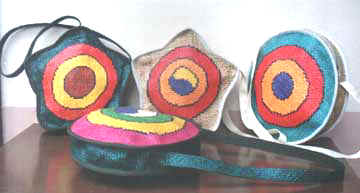 [2] Star&round-shaped shoulder bags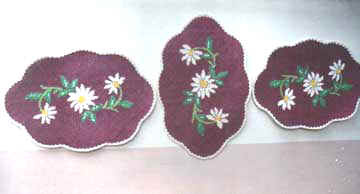 [3] Scalloped tikog placemats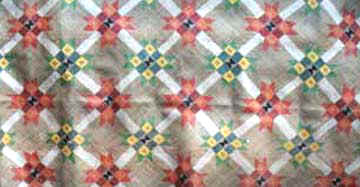 [4] Tikog mat (geometric and floral designs)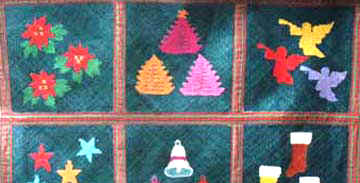 [5] Natural color handwoven sheet